THINKtent 'Questions For Kragujevac, Questions From Kragujevac'
Words by Dr Natasha Cica
Director, Kapacity.org
Incoming Director, Heide Museum of Modern Art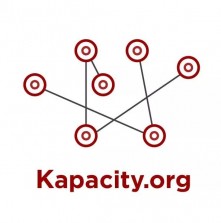 In February 2017, THINKtent was presented in Kragujevac at a conference for the HUMAN CITIES/Challenging the City Scale 2014-18 project, co-financed by the EU Creative Europe programme.  This initiative engages cities in France, Belgium, the United Kingdom, Finland, Estonia, Poland, Austria, Slovenia, Spain, Italy and Serbia.
THINKtent was used as a brainstorming space closing the conference.
THINKtent asked participants to reflect on the day of presentations from experts across all participant countries, and from local experts in the museum and cultural sector – as well as their site visit to the Creative Grand Park of Kragujevac, a new urban regeneration project in the city's main public park, delivered by Belgrade Design Week with the support of the Dragica Nikolic Foundation and City of Kragujevac.
Belgrade Design Week chose Kragujevac as its HUMAN CITIES/ focus because of the city's important civic, urban planning and industrial heritage in the heartland of Serbia – and its contemporary challenges as a post-industrial centre.
Now the administrative centre of Sumadija in central Serbia, Kragujevac was Serbia's first capital, and the home of its first constitution, secondary school, university, printing press and pharmacy.  From the 19th century it became an important centre of military production. In the 20th century it was the site of a mass execution of civilians by Nazi occupiers in World War II, which led to the establishment of a large memorial park in the city. Kragujevac today is best known for its munitions and automobile industries – under the brands of Zastava and Fiat – and is a regional university hub hosting 20,000 students.
Against this backdrop, THINKtent invited participants to generate and share Questions For Kragujevac – to support and advance the application of best practice participatory urbanism, in this distinctive local context.
Visiting participants in THINKtent asked:
Are people happy in Kragujevac?
From the view in our hotel, the town looks stuck in the 1970s ­– why?
Do people here respect and appreciate history?
What are people's favourite activities in their free time?
Is this city's image mainly as an industrial town? 
What is the role of tourism in Kragujevac?
What is the legacy here of the 1990s conflicts in the former Yugoslavia – including the 1999 NATO bombing?
What do people in Kragujevac want for their children?
Is this a young city, demographically?
Are people coming to Kragujevac to live and work – or leaving it? 
Why would people who don't live here visit Kragujevac?
How do we measure and better understand what is 'grassroots' participation in Kragujevac – including at the new creative park?
Does the new creative park really need a fence?  
Is Kragujevac partnered or twinned with other cities in Europe, the ex-Yugoslavia, or elsewhere?
Does Kragujevac need new buildings to replace older, damaged ones?
Is the night life good?
Are there festivals?
Local participants offered (the beginning of) some answers:
The story about regenerating the factory to make a creative industries space – we've heard that for a long time.
Kragujevac is a living city – but many people also leave it.
I was born here, in the early 1980s I finished high school and went to Belgrade.  I had a baby and came back here, I have two children.  When I saw this conference was happening in Kragujevac – I said, 'I have to go!'  I couldn't find any friends here who wanted to come.  I called my sister and asked her as well, she said 'I'm not interested, I have my own problems.  I don't feel like a citizen of Kragujevac.'  She doesn't want to take part.
That's the real situation here – I have a lot of educated, creative friends in Kragujevac.  Their focus is on having a job, a family.  The internet, having coffee.
We're disappointed, mainly.
I think everything really stopped here during the 1990s, especially after the bombing.
We expected a lot after Milosevic went.  We thought we'd be part of the EU.  We lost energy, and I'm really sad about that.
There are initiatives in Kragujevac, but on a large scale.  Most people don't want to be involved.
This new creative park with the playground for children, and the place for older people and teenagers – it's really positive.  It's always easier here when someone else delivers something like this.
I used to be active in a small citizen's association here doing projects in villages near Kragujevac.  We received some British Council funding. 
There is a lack of trust in government.
To drive new initiatives in Kragujevac, ideally people should engage with both government and the non-government sector.
People don't think they can change things.
This led to discussion about what effective participatory urbanism really means today.  In Kragujevac – and also other places …
In other parts of Europe (the current EU) there are parallel engagement challenges – and rewards:
People are diffident, they tend to be worried and move in closed circles.  You put energy into change but don't see the results.
I think people are a bit afraid of having their 'super curated' projects and enthusiasm taken by 'the establishment', and used for political purposes.   I think that kind of initiative is a good kind of politics – but there is a fear, initially.
If we are not connected, we don't care about what's common to all of us.
We paid attention to building relationships between urban neighbourhoods and villages.
Streets and districts can work to know and support each other – that's about people getting together – and that can lead to more support at municipality level.
I moved into a new neighbourhood and discovered a very active Facebook page, connecting people across lots of activities.
Almost nobody wants to spend 100 hours a week building community capacity.  But little things work – baking a cake, bringing a bottle of wine.
We have a situation where there are so many grassroots projects – it somehow becomes a nightmare of participation.
It's scary, that almost everything that comprises 'the commons' (an idea that's been around since the Middle Ages) is being destroyed.  
Community-driven urban interventions can become an excuse to stop funding or supporting things, an institutionalised way for the public sector to slash budgets.
We're doing a project to make a pond swimmable – and doing the work of government.
Participatory budgets help, as an instrument.
We don't trust our politicians, but small steps can build trust and may give more satisfaction.
In communist and socialist times, nobody took care of public space – and they still don't want to do that.  All open space was everyone's, now it's nobody's.  How do we find consensus about what to do?
In the West, people used to rely a lot on public initiatives.  Now there is this moment of transition for us as well – 'When we don't know if we're fucked.'
I spent the last few years in Shanghai, where the government seriously (seriously!) takes care of the public space.  It seems like the Truman Show.  If someone feels like planting a carrot in the ground, they can't.
And all this led to some conclusions – or maybe a road map, some lines to colour in? 
For the next steps … some new Questions from Kragujevac:
How do we teach children how to grow carrots together – and share what they grow?
Children aren't the problem. Isn't it adults who are more closed and cynical? Don't the least creative people seem to be the ones who've studied?
 We all need to get out of our safe zones, to dare to 'be like kids' … maybe, in some version of a creative playground?
Trackback from your site.